Mitsubishi Electric

From its founding in 1921, Mitsubishi Electric has been at the forefront of Japan's technical ingenuity and product innovation. From its first hit product-an electric fan for consumer use-Mitsubishi Electric has continued to create a long list of "firsts" and groundbreaking new technologies that have shaped its business fields all around the world.
Take One Of Our Online Course(s) Now!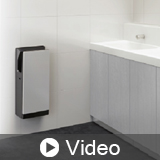 This course provides the opportunity for you to learn about the hand dryer, its history, use and innovations.

1 AAA Structured Learning Hour
1 AIA HSW/LU CE Hour
1 AIBD CE Hour
1 OAA Structured Learning Hour
1 SAA Core Learning Hour