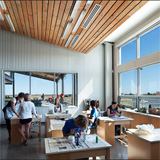 Abuse and Impact Resistant Gypsum: Stronger and Safer Walls

About the Sponsor
National Gypsum Company is a fully integrated building products manufacturer and one of the leading gypsum board producers in the world. National Gypsum also offers a full line of interior finishing products including joint compounds, tape, and textures. Its growing cement board product line has a strong customer base in the United States and several other countries.
Course questions/comments
704-365-7494
Analyze the different types of gypsum technologies in terms of composition, characteristics, and testing. Discover the benefits of impact resistant gypsum in terms of performance, application, and cost.
Learning Objectives:
Define key terms associated with gypsum and wall surfaces
Discuss ASTM C 1629 classification system for abuse resistant panels and ASTM test methods
Compare and contrast the performance of different gypsum board technologies
Discuss the installation process, performance features, various applications, and cost benefits of impact resistant gypsum
Design Category (CSI Division):
Course & Quiz Details:
10 Multiple Choice and True/False Questions
A score of 80% or higher is required to receive a certificate of completion