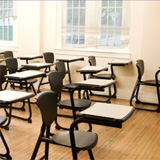 Acoustically Enhanced Gypsum Board Designed for High STC Wall Assemblies

About the Sponsor
National Gypsum Company is a fully integrated building products manufacturer and one of the leading gypsum board producers in the world. National Gypsum also offers a full line of interior finishing products including joint compounds, tape, and textures. Its growing cement board product line has a strong customer base in the United States and several other countries.
Course questions/comments
704-365-7494
In this course, we explore sound transmission and acoustical requirements in buildings. Codes, standards, and design considerations, are thoroughly reviewed. Acoustically enhanced gypsum board assemblies are evaluated as a solution for improving acoustics in multiple indoor environments.
Learning Objectives:
Review key acoustical concepts & terminology: Sound Transmission Class (STC), Airborne Sound, Decibels (dB)
Discuss current and proposed code requirements for STC ratings
Describe existing and innovative sound reducing solutions in terms of efficiency and practicality
Discuss the elements that affect STC ratings and what measures can be taken to improve STC ratings in wall assemblies
Design Category (CSI Division):
Course & Quiz Details:
10 Multiple Choice and True/False Questions
A score of 80% or higher is required to receive a certificate of completion