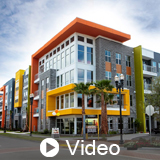 Advanced Rainscreen Design for Moisture Management

About the Sponsor
James Hardie has operations in the United States, Australia, New Zealand, Asia, and Europe. No matter where they operate, their goal is to remain at the forefront of the fiber-cement industry, capitalizing on our global leadership in building products and manufacturing and technology for both new home construction and remodeling.
Course questions/comments
949-367-4649
This course will better inform the designer on moisture management in the building envelope and related considerations. The designer will evaluate rainscreen and wall assembly options to gain a better understanding of how to incorporate rainscreens into their building envelope system. The designer will also gain an understanding of some of the design requirements stipulated by codes and standards.
Learning Objectives:
Describe how rainscreens are effective systems for preventing moisture penetration into buildings of all types
Identify essential code provisions related to exterior wall assemblies regarding water management and material protection
Recognize the concept that rainscreens are custom designed for each project and gain insights into the different interchangeable parts of rainscreen systems
Explain the design and construction of different types of successful rainscreen systems
Design Category (CSI Division):
(07) Thermal and Moisture Protection
Course & Quiz Details:
10 Multiple Choice and True/False Questions
A score of 80% or higher is required to receive a certificate of completion