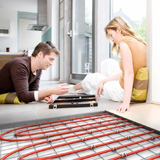 Advantages of Radiant Heating and Cooling Systems: Delivering Health, Safety and Welfare with Improved Heating and Cooling

About the Sponsor
As a leading supplier of polymer-based solutions to construction, REHAU addresses sustainable design priorities by engineering products that enhance comfort and convenience, reduce energy costs, create healthy and safe environments, and conserve finite resources. REHAU's products and systems for the window and door, heating and plumbing, fire protection and pipe markets complement each other in integrated high-performance solutions.
Course questions/comments
703-777-5255
This course provides a fundamental understanding of the benefits of radiant heating and cooling systems for residential, commercial and institutional applications. You will learn about how radiant heating and cooling provides a cost efficient, comfortable way for your building to achieve a high level of energy performance. Also discussed are ways to easily integrate radiant systems into the mechanical environment of a building.
Learning Objectives:
Explain the four basic types of radiant heating installations
List the six primary benefits of radiant heating systems
Explain the two basic types of radiant cooling installations
List the five primary benefits of radiant cooling systems
Recognize the advantages of combined radiant heating/cooling systems
Indicate feasible applications for radiant heating and cooling technology
Design Category (CSI Division):
(23) Heating, Ventilating and Air Conditioning
Course & Quiz Details:
10 Multiple Choice and True/False Questions
A score of 80% or higher is required to receive a certificate of completion