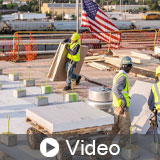 Advantages of Using Cover Boards in Low-slope Roofing Assemblies - Update

About the Sponsor
National Gypsum Company is a fully integrated building products manufacturer and one of the leading gypsum board producers in the world. National Gypsum also offers a full line of interior finishing products including joint compounds, tape, and textures. Its growing cement board product line has a strong customer base in the United States and several other countries.
Course questions/comments
704-365-7494
This course will provide a brief overview of Low-Slope Roof Systems to provide the necessary background to discuss cover boards & thermal barriers.  The various cover board types and reasons for their use will be described. Each board type will be discussed along with their primary features, benefits & challenges. The long-term performance of all low-slope roof systems is impacted by a number of external factors such as weather events and roof system abuse (natural & man-made). Important roof component performance criteria will be discussed and conclusions drawn, in order to increase your knowledge surrounding cover board selection.
Learning Objectives:
Define the UL and Factory Mutual (FM) testing criteria related to roof performance in fire and wind events allowing occupants to be protected
Outline the importance of specifying the correct and appropriate products to meet specific UL and FM requirements ensuring public safety in the event of a fire or high winds
Describe the long-term acoustical performance of each roof system and the impacts of low acoustical performance on building occupants
Define the physical properties of gypsum coverboards and the systems that contribute to enhanced performance against wind uplift and hail damage to protect building occupants and interior equipment
Design Category (CSI Division):
(07) Thermal and Moisture Protection
Course & Quiz Details:
10 Multiple Choice and True/False Questions
A score of 80% or higher is required to receive a certificate of completion