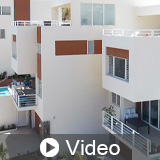 Alternative Concrete Reinforcement Materials

About the Sponsor
Helix Steel was first developed as part of a research project that challenged University of Michigan Engineers to create a reinforcement technology that could product provide quantifiably better resiliency, ductility and elasticity to concrete structures. After years of applying the Twisted Steel Micro-Rebar™ reinforcement technology to various use cases and stringent test case scenarios, it was decided to incorporate and bring Helix Steel to the market in 2003. One of the initial focus areas where Helix Steel collaborated with the U.S. Army Corp of Engineers was as an alternative to rebar in blast resistant applications where rebar was not good enough and too cumbersome for use.
Course questions/comments
7343222116
Navigating through building codes can sometimes be a challenge for even the seasoned professional at times. Join us in this hour course as we focus on how performance-based building codes are developed. Design professionals will learn how alternative allowances are there to help keep the door open for innovation in the marketplace. Innovation in terms of structural and another area, such as fire, where performance-based design and alternative methods are routinely used. We will also examine how that alternative process of code allowance is incorporated, while focusing on the subject of concrete reinforcement; and lastly, it is our hope that you will grasp a better understanding of the process for your next project.
Learning Objectives:
Identify how building codes effect innovation in the space of concrete construction. 
Define and implement the code process in order to meet performance standards and show how these codes provide ways to meet the performance standards through innovation and technology. This will also include alternative allowances that are in the codes.
Explain the purpose of ISO evaluation reports, such as ICC and IAPMO which are used to demonstrate compliance for these bodies in certifying products, processes that are not necessarily spelled out in the building codes.
Examine applications through examples of how this process is implemented to provide value by analyzing at several different projects.
Design Category (CSI Division):
Course & Quiz Details:
10 Multiple Choice and True/False Questions
A score of 80% or higher is required to receive a certificate of completion