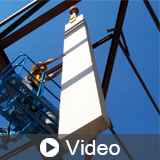 Autoclaved Aerated Concrete: Old Technology, New Applications

About the Sponsor
AERCON AAC is the leading manufacturer of Precast Autoclaved Aerated Concrete Products and prides itself on maintaining the highest level of customer service and support. We are the only Autoclaved Aerated Concrete (AAC) provider that manufactures their product in the United States.
Course questions/comments
800.830.3171
This course provides an overview of autoclaved aerated concrete (AAC) with a discussion of the raw materials and production process, and a focus on the beneficial properties of the wide range of AAC products available today for use in a variety of commercial and residential projects.
Learning Objectives:
Examine the general production process of autoclaved aerated concrete (AAC)
Discuss the types of projects where AAC is appropriate, feasible and economical
Determine the various types of AAC products that are available
Ascertain the erection methods and equipment used for AAC projects
Explain the material properties of AAC including thermal performance, fire resistance, acoustic performance, moisture behavior, and ecological factors
Design Category (CSI Division):
Course & Quiz Details:
10 Multiple Choice and True/False Questions
A score of 80% or higher is required to receive a certificate of completion