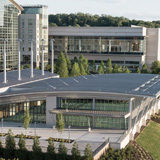 Balancing Your Metal Roofing Budget: How Design Decisions Impact Project Cost

About the Sponsor
NB Handy holds the rare distinction of being successfully owned and operated by the same family for more than 125 years. NB Handy was founded in 1891 by Nathan Bryant Handy who began his family owned business delivering galvanized black sheets, steel roofing, copper, solder and accessories to his customers via horse and wagon. Soon he had built a building in downtown Lynchburg, Virginia to house his company. The Southern Railway ran right by the building. Although the products and industries the company has served since its inception have changed and grown, the core values of excellence and treating employees, vendors and customers like family remain strong. The company credits its robust longevity to Mr. Handy's founding principles. In the post WWII economic boom, a new market emerged for warm heating and air conditioning. NB Handy quickly responded to the needs of this market for the metal it could provide for duct fabrication. As technology advanced, machinery was added into the mix to increase quality, productivity and to provide value for our customers, resulting in higher profits. We continue to respond to emerging markets and technologies and make sure our customers have everything they need to compete in their markets and win. Nathan Bryant Handy built his company on passion, integrity, innovation, intelligent strategy, adaptability and accountability. For more than 125 years, we have proudly served our employees, vendor partners and customers, seeking to be the preferred choice.
Course questions/comments
(434)818-5820
This course is focused on balancing your metal roofing budget and how even small design decisions impact project cost through both code requirements for wind uplift and a labor and materials perspective. We take a deep dive in to the major design elements that impact installed cost and how small changes may have big impacts based on code requirements to keep the assembly attached, non-design elements that impact installed cost i.e. exposure category and building classification, and the variables for the major design elements and how changes can impact attachment requirements per code for structural integrity, design options for controllable variables and reference real world project examples to bring the entire decision making process together and highlight the decision making process an architect is faced with when complying with codes for occupant safety, the owners requirements and budget.
Learning Objectives:
Identify major design and non-design elements that impact installed cost from a code (wind load) requirement, labor, materials, occupant safety and installation perspective.
Define variables for the major design elements and their impact on cost and structural integrity.
Discuss options for controllable variables (i.e. height, geometry, pitch) and how small changes can have a big impact on both budget and structure.
Review real world project examples to illustrate how problems arose and were solved to function correctly, keep the structure intact overtime, and remained cost effective.
Design Category (CSI Division):