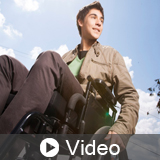 Barrier-Free Restroom Design Strategies Utilizing Optimal Hand Drying Solutions

About the Sponsor
World Dryer, the leading global manufacturer of hand dryers, is the only company of its kind to offer a full portfolio of fast, state-of-the-art hand dryers designed to fit the individual needs of any facility. For more than 60 years, our products have set the industry standard by integrating leading technology, convenient functionality and attractive design to give every user an unparalleled experience. Our high-speed hand dryers are all designed to deliver a faster, more effective drying experience while reducing operational costs. With more than 800 distributors worldwide and over 18-plus certifications representing more than 85 countries around the globe, World Dryer truly is the hand-dryer manufacturer of choice. Experience a world of choice
Course questions/comments
800-323-0701
Examine the ADA Standards, and identify how hand drying methods can impact the design professional decisions that apply to an Accessible Design restroom. Through this thorough review, the design professional will recognize common challenges encountered in barrier-free restroom design, and how to integrate safe solutions that contribute to a project while embracing a healthier user experience.
Learning Objectives:
Identify ADA law requirements for barrier-free restroom design and how barrier-free spaces contribute to the occupant/visitor experience in the built environment.
Identify ADA restroom compliance standards for new and existing facilities.
Evaluate common restroom design challenges for ADA restroom compliance and explore potential solutions.
Compare hand drying methods and identify the factors that impact the occupant/visitor in terms of speed and hygiene.
Explain what to look for when researching ADA compliant products.
Explore optimal hand drying solutions that comply with accessibility requirements and universal design principles.
Design Category (CSI Division):
Course & Quiz Details:
10 Multiple Choice and True/False Questions
A score of 80% or higher is required to receive a certificate of completion