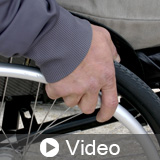 Beyond Barrier Free: Restrooms for All

About the Sponsor
Scranton Product's well-known brands feature the most durable, low maintenance and best looking partitions, lockers and industrial sheet products in the industry. They won't dent, rust or need painting, and because they are colored throughout, delamination is not a factor.
Course questions/comments
570-348-0997
In this one-hour course, the design professional will review the ADA Standards for accessible design to determine how the codes were developed and more importantly, how they may be applied to building projects. We will discuss why design professionals should do more than minimally meet the standards and encourage design professionals to go a step further and apply universal design theories to projects to ensure that the needs of all individuals may be addressed in aesthetic and functional restrooms. We will also take a closer look at the various components of restrooms to analyze ways that the restroom design can enhance user experience. The idea of removing barriers and using products that meet or exceed codes will be explored to provide exceptional restroom facilities that have a positive effect on people and their environment.
Learning Objectives:
Identify key ADA standards that specifically apply to the design of restroom facilities to provide fully accessible facilities for disabled individuals
Distinguish between minimal accessible design to ensure that restrooms are being designed to meet the health and welfare needs of all building occupants
Explore the components of restrooms and the codes specified for each component in order to understand the importance of specifying products that contribute to a healthy environment
Explain ways to make restrooms free of architectural barriers to provide circulation paths, maneuverability, forward reach, side reach, doorway clearance, and access to bathroom hardware in a manner that discriminates no one
Design Category (CSI Division):