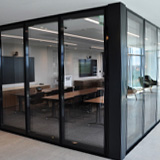 Breaking the Fourth Wall: Modern Operable Wall Systems

About the Sponsor
As an industry leader in the moveable wall concept, Modernfold delivers the highest-quality, custom wall solutions from start to finish. Our operable partitions and architecturally-striking glass wall systems wow customers and provide them with endless possibilities for their environments. Where others see only space, Modernfold sees possibilities.
Course questions/comments
(317)468-6738
From simply reconfiguring a room to completely changing how it is entered and exited, operable wall partition systems make rooms more efficient and maximize space by implementing superior technologies. Join us in this one-hour course as we go beyond the basics of operable partitions to address layout, operating clearances, panel construction, and acoustical elements. By the end of this course, design professionals will learn how these components work together to impact a project's environment in term of health, well-being, and space management.
Learning Objectives:
Define operable wall systems and discuss how they can improve occupants' wellbeing by implementing space flexibility and daylighting through various panel configurations
Compare and contrast the different suspension systems available for use with operable partitions
List the various types of acoustical seals that can be used with operable partitions in order to improve occupants' health and wellbeing in multi-use spaces
Identify safety considerations of operable partitions, including stopping electric partitions, protecting spaces from fire, and ensuring appropriate clearances
Design Category (CSI Division):