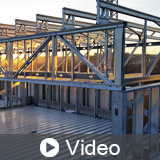 CFS Floor Truss Systems

About the Sponsor
TrusSteel is the commercial framing industry's premier cold-formed steel truss system. Our innovative Double-shear fastening technology combines with our patented symmetrical profile to efficiently transfer structural load. The unique system provices more overall stability which makes TrusSTeel easier to handle and easier to install, with less need for additional installation of external restraints.
Course questions/comments
863.307.9895
Cold‐formed steel is a material of choice for a variety of commercial construction projects. Cold‐formed steel floor trusses are an economical alternative to more traditional floor framing systems in light commercial construction projects. This one‐hour discussion is intended to help participants gain an understanding of the many benefits of using cold‐ formed steel floor trusses on their next multi‐story project. The goal is to understand important aspects to consider, when specifying cold‐formed steel floor trusses.
Learning Objectives:
Define cold-formed steel floor trusses and evaluate their ability to reduce waste, labor, and cost when compared to alternative framing systems
Identify the environmental benefits of cold-formed steel floor trusses, including live cycle analysis, recyclability, and sourcing
List truss design standards that govern the design, manufacturing, testing, and installation of trusses to ensure the safety of builders and occupants
Discuss ideal applications for cold-formed steel floor trusses, including important considerations when specifying them in different projects
Design Category (CSI Division):