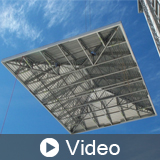 CFS Truss Systems

About the Sponsor
TrusSteel is the commercial framing industry's premier cold-formed steel truss system. Our innovative Double-shear fastening technology combines with our patented symmetrical profile to efficiently transfer structural load. The unique system provices more overall stability which makes TrusSTeel easier to handle and easier to install, with less need for additional installation of external restraints.
Course questions/comments
863.307.9895
Cold-formed steel is the material of choice for a variety of commercial construction projects. In this one-hour course, we will discuss truss design standards along with the benefits of using cold-formed steel truss systems in your design project, including an evaluation of bracing techniques. The characteristics of and efficiencies gained from cold-formed steel will also be reviewed. In addition, we will assess the design flexibility and various applications of using cold-formed steel truss systems.
Learning Objectives:
Review the properties that make cold-formed steel a sustainable product
Describe truss designs and restraint systems that meet safety standards
Explain the value of using cold-formed steel truss systems with respect to design deficiencies, fabrication, and restraint systems
Evaluate the characteristics and efficiencies inherent in using cold-formed steel truss systems
Design Category (CSI Division):