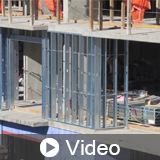 Cold-Formed Steel Framing 101 - An Introduction to the New Metal Framing Industry

About the Sponsor
Founded in 1974, CEMCO is the leader in quality, service, and product development, always striving to deliver the cutting-edge solutions that save both time and money during the entire construction process. Its commitment to quality control and the use of mill-certified prime steel ensures stellar product performance long after the project is finished. CEMCO is proud to offer one of the most broad product lines available in cold-formed steel framing for both commercial and residential markets. All of CEMCO's products are manufactured here in the USA.
Course questions/comments
800-775-2362
Through an evaluation on head-of-wall assemblies, as well as the UL standards for approval, the design professional will have a better understanding of the components involved with each application. In addition, we will review what design professionals should consider when specifying protection of dynamic or static head-of-wall joints.
Learning Objectives:
Describe the use and typical applications for metal framing products
Evaluate the complete manufacturing cycle of cold-formed steel framing products, and the identification and vetting of qualified manufacturers for your project
Define the three most important types of product testing and their importance to proper product specification
Discuss the new era of sustainability and transparency of CFS products
Design Category (CSI Division):
Course & Quiz Details:
10 Multiple Choice and True/False Questions
A score of 80% or higher is required to receive a certificate of completion