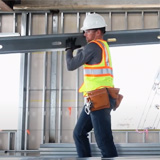 Cold-Formed Steel Framing Connection Products: Specifying Tested Connection Products that Limit Liability

About the Sponsor
As ClarkDietrich, we are now truly able to answer the challenges of any project, regardless of size or complexity. With a complete lineup of innovative products, plus technical support services and smart tools for design and specification, we're forging a new future for steel framing.
Course questions/comments
(330)974-0835
A safe and secure building begins with reliable, tested framing connections. Join us in this one-hour course as we discuss cold-formed steel framing connection products that help ensure your building can withstand a variety of expected and unexpected issues throughout its lifespan. Participants will learn about deflection and drift clips, rigid connections, and other products that secure framing and protect your building and its occupants.
Learning Objectives:
Identify a variety of deflection and drift clips that are used to protect a structure and its occupants from movement
Discuss how rigid connections are used to safely secure cold-formed steel framing in applications where movement isn't tolerated
List miscellaneous connections such as web stiffeners, hurricane ties, and burn clips that help prevent serious issues such as crippling, wind lift, and fire spread
Interpret allowable load tables for a variety of clips and connectors to ensure both the attachment and attachment method meet the requirements of a structure's load capacity
Design Category (CSI Division):