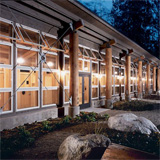 Comparative Study of Wood and Aluminum Windows in Commercial Buildings

About the Sponsor
Pella Commercial offers wood, aluminum-clad wood, fiberglass, and vinyl windows and doors at varying price points to meet the performance and budgetary requirements of virtually any commercial, institutional or multi-family project. Products are appropriate for both new construction and renovation projects and are often used in punched openings, entrances, storefronts and window wall applications.
Course questions/comments
800-847-3552
This course lists three key window selection criteria and explains the impact they have on the interests of you and your client. You will be able to identify the advantages and disadvantages of wood and aluminum windows, as well as how to determine an appropriate system for your projects.
Learning Objectives:
Describe the aesthetic attributes of wood and aluminum windows
Identify the different costs associated with wood and aluminum windows
Gain insight on thermal performance
Determine the most appropriate window system for your next project
Design Category (CSI Division):
(08) Doors, Windows and Openings
Course & Quiz Details:
10 Multiple Choice and True/False Questions
A score of 80% or higher is required to receive a certificate of completion