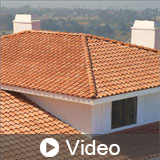 Concrete Roof Tiles: The Natural Choice for Durability and Sustainability

About the Sponsor
Founded over 25 years ago, Eagle began operations in the fall of 1989 with one high-pressure concrete tile extrusion machine. Today, Eagle's Rialto, California facility is the largest in North America. Eagle has grown to eight design centers and a workforce of over 500 employees that are knowledgable on not only concrete roof tile but regional trends and needs. Our expertise, coupled by our extensive array of profiles and colors, enables us to provide our customers with high quality concrete roofing products that are aesthetically beautiful, durable and environmentally friendly.
Course questions/comments
1-888-TILE-ROOF
In this one hour course we will take an in-depth look at concrete roofing tiles including design options, manufacturing and installation processes, testing and code compliance, and finaly sustainable attributes and Life Cycle cost analysis.
Learning Objectives:
Discuss the design versatility of concrete roof tiles including color and profile options to coordinate any architectural style in both commercial and residential settings
Review the manufacturing process of concrete roof tiles from the introduction of raw materials to the finished product
Compare and contrast the installation methods of concrete roof tile and other roofing materials
Identify key performance characteristics of concrete roof tiles including safety testing, related building codes, and sustainability attributes
Analyze the longevity, durability, and overall life cycle cost analysis of concrete roof tile compared to asphalt shingles, wood shakes, slate and metal
Design Category (CSI Division):
(07) Thermal and Moisture Protection
Course & Quiz Details:
10 Multiple Choice and True/False Questions
A score of 80% or higher is required to receive a certificate of completion