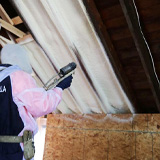 Continuous Insulation: The Modern Alternative to Traditional Rigid Foam Board

About the Sponsor
Icynene-Lapolla is a leader of high performance building material innovations aimed at optimizing the building envelope and maximizing energy efficiency. Available in more than 31 countries, Icynene-Lapolla is a global manufacturer and supplier of spray polyurethane foam for insulation and roofing applications, reflective roof coatings and equipment.
Course questions/comments
(281)219-4100
The 2015 International Energy Conservation Code and ASHRAE 90.1 now require insulation that is continuous in wall assemblies, (i.e. not interrupted by studs, framing, etc.) in all eight climate zones within the United States. This push for continuous insulation in exterior wall assemblies is also reflected in green building standards and the desires of building owners to reduce energy costs. While the traditional choice of many architects has been to use rigid foam board insulation over the exterior structural face and behind exterior claddings, significant technology advancements and assembly fire testing results have made spray foam insulation a more viable choice for exterior continuous insulation. In fact, closer review suggests that using field applied medium density spray foam insulation may be a better choice for many situations. Join us in this one-hour course as we look at spray foam insulation in terms of design flexibility, performance, construction efficiency, and cost.
Learning Objectives:
Compare and Contrast insulation types—particularly rigid board foam and medium density spray foam—for use in exterior wall assemblies
Identify medium density spray foam insulation and its ability to reduce air leakage, minimize moisture transfer, and optimize energy efficiency
Describe the importance of thermal, air, and water resistance in insulation for the safety of the installers, occupants, and environment
Discuss the installation and application of spray foam insulation, focusing on its optimal cost, low waste, and design flexibility
Design Category (CSI Division):
(07) Thermal and Moisture Protection