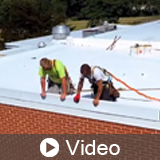 Cutting Edge Code Compliance

About the Sponsor
OMG Roofing Products is a leading manufacturer and global supplier of high performance products for the commercial roofing industry. Our core business is manufacturing highly engineered roofing fasteners for virtually every type of roof substrate and roofing system. In addition, we manufacture insulation adhesives, roof drains and edge metal systems, and we supply other rooftop components such as pipe supports and solar mounts.
Course questions/comments
859.992.2627
This one-hour course examines the importance of specifying the proper edge solution for commercial roofing systems that complies with the most recent code changes and has tested products for each specific project. The correct edge system will not only be functional and have an aesthetic style that suits design professionals, but it will also serve as the roof's first line of defense against wind damage and water infiltration.
To reduce liability associated with substantial roof damage and loss from a storm, it is important for design professionals to fully understand changes in the building code and testing methods required for each project. The goal is to equip designers and specifiers with cutting edge information to make critical decisions that will ensure the building envelope is securely protected with edge systems that meet or exceed expectations as well as better protect building occupants.
Learning Objectives:
Identify the functions of the roof edge systems and why these functions are critical to protecting the building and its occupants.
Explain ANSI/SPRI/FM 4435/ES-1 and how it relates to protecting the roof system from environmental elements.
Discuss the three required test methods as well as how they ensure code compliance that focuses on having durable roof systems that avoid waste.
Analyze how edge systems are applied to diverse projects to ensure the overall safety of the building envelope and its occupants.
Design Category (CSI Division):
(07) Thermal and Moisture Protection
Course & Quiz Details:
10 Multiple Choice and True/False Questions
A score of 80% or higher is required to receive a certificate of completion