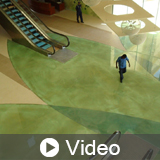 Decorative, Dynamic Resinous Flooring Systems

About the Sponsor
Elite Crete Systems, Inc. is a world leading developer and manufacturer of specialty high-performance flooring products for: decorative/architectural concrete systems and finsihes, concrete surface repair and protection, custom/seamless fluid aplied commercial flooring, and industrial high-wear protective floor coatings. We provide versatile applications for commercial flooring, residential flooring, and industrial flooring.
Course questions/comments
(219)476-3854
For designers, architects, specifiers, contractors, resinous fluid-applied flooring systems bring other dynamic design options and increased durability to a project. The colors and application techniques blend for an unlimited variety of creative expression.
However, in order for the system to perform as expected, the correct process must be followed. In this course, the basics of resinous flooring systems are explained, along with step by step insights into the proper preparation and finishing techniques.
Please be sure to download and read the handout.
Learning Objectives:
Describe the basics of seamless, fluid-applied resinous floor coverings
Explain proper specification, plus surface preparation for successful seamless fluid-applied resinous floor coverings
Discuss installation and application of seamless fluid-applied resinous floor systems
List application techniques to create visual effects, and describe various projects
Design Category (CSI Division):
Course & Quiz Details:
10 Multiple Choice and True/False Questions
A score of 80% or higher is required to receive a certificate of completion