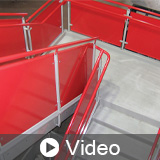 Delegated Design of Metal Stair Systems

About the Sponsor
More than 85,000 Lapeyre Stair alternating tread stairs are in use around the world today, allowing workers to easily and safely access crossovers, catwalks, and other tight spots that do not permit the use of conventional staircases. At the company's headquarters outside of New Orleans, Louisiana, alternating tread stairs and traditional steel stairs are manufactured to meet specific height and building code requirements. A variety of options and additional products integrate to create complete, custom stair systems design for each, individual customer's specifications. Alternating tread stairs can be ordered online and ship within 15 business days. Pre-engineered steel stairs are designed upon approval and ship directly to the project site, ready for installation. As a dedicated stair manufacturer, Lapeyre Stair provides a complete outsource solution that allows customers to focus on higher priority aspects of their projects.
Course questions/comments
(504)470-9723
In this one-hour course, we will review the overall process for the delegated design of metal stair systems. This highly coordinated process involves several different parties such as: architects, engineers, contractors, and metal stair manufacturers. As new software technologies and stringent criteria for design of metal stairs emerge, it is important for all parties to understand their role in the process to achieve the maximum benefit. This session will help design professionals understand their role in the metal stair delegated design process, benefits and challenges of the process, as well as best practices to eliminate issues and bottlenecks.
Learning Objectives:
Describe the delegated metal stair design process and how the roles of each party can increase the safety and efficiency of a project
Explain the benefits of a delegated metal stair design process and how it ensures a safe, and durable installatio
Discuss the best practices of documentation, BIM Coordination, and information flow required in a delegated metal stair design process
Identify key issues, bottlenecks, and sources of error within a delegated metal stair design process and understand how to eliminate them
Design Category (CSI Division):