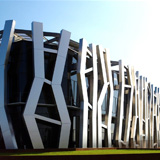 Design And Specification of ACM/MCM In Today's Architecture - Update

About the Sponsor
As one of the world's leading manufacturers of metal composite materials, ALPOLIC® carefully considers every detail of the manufacturing, distribution and sales process. Most of our products are manufactured in Chesapeake, VA, many with a substantial amount of post-consumer recycled materials. After fabrication, the MCM sheets are shipped to their destinations, ready to change the facade of structures around the world. Exceptional projects deserve exceptional materials. Demand ALPOLIC®.
Course questions/comments
757-382-5726
Explore different architectural cladding options. Discover how aluminum composite material (ACM) panels and metal composite material (MCM) panels have broadened architectural horizons, providing weatherability, fire resistance, long service life, and design flexibility.
Learning Objectives:
Knowledgably discuss ACM & MCM, their characteristics, and their manufacturing process
Identify the various fire tests used to evaluate ACM/MCM performance
Distinguish ACM/MCM finishes and explain the different surface technologies
Compare the different ACM/MCM attachment systems in terms of application process and performance
Define key points for specifying ACM/MCM and identify application possibilities
Design Category (CSI Division):
(07) Thermal and Moisture Protection