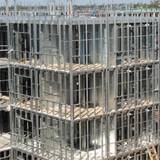 Design Engineering & Cold-Formed Steel Basics

About the Sponsor
As ClarkDietrich, we are now truly able to answer the challenges of any project, regardless of size or complexity. With a complete lineup of innovative products, plus technical support services and smart tools for design and specification, we're forging a new future for steel framing.
Course questions/comments
(330)974-0835
This course provides a basic overview of exterior cold-formed steel framing, as well as the characteristics and usage of different types of exterior deflection systems. Also included is a review of how to avoid common mistakes when framing, as well as the ASTM and AISI standards for cold-formed steel framing products.
Learning Objectives:
List the features and characteristics of cold-formed steel C-stud and track products
Explain the SFIA nomenclature and ASTM & AISI standards for cold-formed steel framing products
List the characteristics and usage of different types of exterior deflection systems
Describe bridging systems, including spacer bars, U-channels, and block and strap bridging
Explain the types of headers, including box headers, I-beam headers, and U-shaped headers
Describe how to avoid common mistakes when framing with cold-formed steel products
Design Category (CSI Division):
Course & Quiz Details:
10 Multiple Choice and True/False Questions
A score of 80% or higher is required to receive a certificate of completion