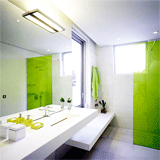 Designing Barrier -Free Restrooms to Meet the new 2010 ADA Standards for Accessible Design

About the Sponsor
Scranton Product's well-known brands feature the most durable, low maintenance and best looking partitions, lockers and industrial sheet products in the industry. They won't dent, rust or need painting, and because they are colored throughout, delamination is not a factor.
Course questions/comments
570-348-0997
Through an in depth review of the 2010 ADA Standards for Accessible Design, as they apply to restroom design, the design professional will better understand the importance of accessibility, how to design a barrier-free restroom, and how this can contribute to a more sustainable project.
Learning Objectives:
Distinguish between the Americans with Disabilities Act (ADA) and the ADA Amendments Act (ADAAA)
Understand what components make up the ADA Standards for Accessible Design
Define the characteristics of accessibility as they apply to the restroom setting
Discuss the ADA Standards for restrooms and their implementation
Distinguish between minimal accessible design and universal design
Identify sustainable design options
Identify privacy design options
Design Category (CSI Division):
Course & Quiz Details:
10 Multiple Choice and True/False Questions
A score of 80% or higher is required to receive a certificate of completion