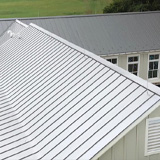 Designing Safe and Durable Buildings with Architectural Standing Seam Metal Roofing

About the Sponsor
NB Handy holds the rare distinction of being successfully owned and operated by the same family for more than 125 years. NB Handy was founded in 1891 by Nathan Bryant Handy who began his family owned business delivering galvanized black sheets, steel roofing, copper, solder and accessories to his customers via horse and wagon. Soon he had built a building in downtown Lynchburg, Virginia to house his company. The Southern Railway ran right by the building. Although the products and industries the company has served since its inception have changed and grown, the core values of excellence and treating employees, vendors and customers like family remain strong. The company credits its robust longevity to Mr. Handy's founding principles. In the post WWII economic boom, a new market emerged for warm heating and air conditioning. NB Handy quickly responded to the needs of this market for the metal it could provide for duct fabrication. As technology advanced, machinery was added into the mix to increase quality, productivity and to provide value for our customers, resulting in higher profits. We continue to respond to emerging markets and technologies and make sure our customers have everything they need to compete in their markets and win. Nathan Bryant Handy built his company on passion, integrity, innovation, intelligent strategy, adaptability and accountability. For more than 125 years, we have proudly served our employees, vendor partners and customers, seeking to be the preferred choice.
Course questions/comments
(434)818-5820
Precision manufacturing and quality installation have revolutionized the commercial metal roofing industry by combining lasting beauty with low maintenance. Join us in this one-hour course as we discuss architectural metals and current processing methods that promote efficiency when designing and installing roofs. We will discuss the benefits of jobsite roof system fabrication and the standards for metal roof systems that ensure a roof will remain durable, safe, and beautiful for years to come.
Learning Objectives:
Discuss the evolution of architectural metals and current processing methods that are used to promote efficiency in design, safety, and installation
Identify the environmental benefits of jobsite roof system fabrication and how it reduces packaging and product waste and increases weathertight warranties
Describe testing and standards for architectural standing seam metal roof panel systems that ensure a roof will withstand standard loads, strong winds, and other issues relating to structural integrity and occupant safety
Illustrate the many design options available when using architectural metals in a variety of markets and applications
Design Category (CSI Division):
(07) Thermal and Moisture Protection