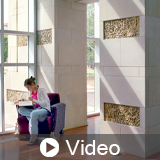 Designing with Texas Limestone

About the Sponsor
Texas Quarries has provided distinctive Texas limestone since 1929, operating the Cordova quarry near Austin. With a customer list that includes clients from New York to California and from Canada to Japan, Texas Quarries supplies finishers with blocks of unique Texas limestone, for applications as expansive as the architect's imagination.
Course questions/comments
817-390-1540
In this one-hour course, the design professional will be introduced to the natural characteristics and design opportunities of Texas limestone. The process of extracting stone from the quarry will be reviewed along with the fabrication process, cutting, and finishing. Specific design options and opportunities will be addressed, ranging from residential to industrial. In addition, the installation and anchoring process will be explained as well as the importance of sealing. The course will conclude with a review of two case studies.
Learning Objectives:
Identify the natural characteristics and beneficial design opportunities, including the variety of textures, colors, and size options, for different types of Texas limestone
Investigate the manufacturing process of Texas limestone and its sustainability for both interior and exterior building applications
Assess the various methods of securing different types and thicknesses of limestone onto buildings using conventional means and metal frame systems
Specify and describe safe and durable installation, anchoring, and sealing practices for Texas limestone on residential, commercial, and institutional building facades
Design Category (CSI Division):
Course & Quiz Details:
10 Multiple Choice and True/False Questions
A score of 80% or higher is required to receive a certificate of completion