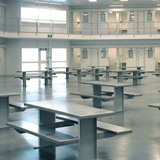 Detention Design & Construction with Truss-reinforced Steel Panels

About the Sponsor
For over 85 years Trussbilt has made correctional facilities more secure and cost-effective by designing and manufacturing security products that set the industry's standard for safety, quality and innovation. Trussbilt is a leading manufacturer of security wall panels, detention doors and frames, security ceilings, security floors, and specialty products.
Course questions/comments
(651)789-7080
In this one-hour course, participants will learn about the evolution of detention construction as well as different materials and approaches to constructing cells and other secure areas. The course will focus on advanced detention construction solutions using truss-reinforced steel panels with hollow metal doors, frames and windows. Participants will also learn about trends and requirements in contemporary detention design that help create a safe and secure prison.
Learning Objectives:
Recall the evolution of detention construction, focusing on more humane and protective approaches for the safety of occupants and staff
Compare and contrast different detention construction materials, such as CMUs, pour-in-place concrete walls, modular construction, and truss-reinforced steel panels
Identify advanced detention construction solutions using truss-reinforced steel panels with hollow metal doors, frames and windows that are durable and sustainable
Discuss trends and requirements in contemporary detention design that emphasize security and safety
Design Category (CSI Division):