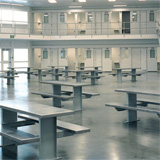 Detention Design and Construction with Truss-Reinforced Steel Panels

About the Sponsor
For over 85 years Trussbilt has made correctional facilities more secure and cost-effective by designing and manufacturing security products that set the industry's standard for safety, quality and innovation. Trussbilt is a leading manufacturer of security wall panels, detention doors and frames, security ceilings, security floors, and specialty products.
Course questions/comments
(651)789-7080
In this one hour course, the design professional will learn about various types of materials used in constructing prison walls. The course will discuss the advantages and disadvantages of these materials which will help the professional achieve the design they are looking for in a safe and secure prison.
Learning Objectives:
Describe the evolution of detention construction
In this one hour course, the design professional will learn about various types of materials used in constructing prison walls. The course will discuss the advantages and disadvantages of these materials which will help the professional achieve the design they are looking for in a safe and secure prison.
Describe contemporary detention design requirements and the advantages of using truss-reinforced steel panels
Describe contemporary detention construction requirements and the advantages of using truss-reinforced steel panels
Design Category (CSI Division):
Course & Quiz Details:
10 Multiple Choice and True/False Questions
A score of 80% or higher is required to receive a certificate of completion