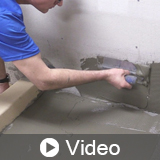 Do I Really Have to Do That?...On My Tile & Stone Installations?

About the Sponsor
Founded in 1946, Noble Company manufactures premium-quality, innovative products for the Tile, Plumbing, Heating and Cooling, and Fire Sprinkler Industries. Noble Company product applications include waterproofing, crack prevention, and sound reduction under tile flooring. Noble Company is an American-based company, manufacturing products in Michigan and Louisiana.
Course questions/comments
(231) 799-8000
A collection of tile industry myths, urban legends, misconceptions, and misunderstandings. This course reviews industry standards, products, installation methods, and practices used to ensure safe, durable installations. Despite best efforts to educate, problems still exist due to resistance to proper methods, product selection, and practices. This course will provide you with the standards, recommendations, necessary practices to achieve problem-free, durable tile installations. Review substrate preparation, performance testing, and more to help achieve successful systems.
Learning Objectives:
Identify trends in product development, installation methods, and industry standards, which endeavor to minimize unacceptable means and methods and provide durable and safe finished installations
Acknowledge that in spite of best efforts, there still remains a number of prevailing notions, stubbornly-held beliefs, and legacy old school practices which continue to prevent current best practices from thriving
Examine the impact these holdover notions and practices have on the quality and longevity of tile and stone installations, as well as, health and safety concerns that stern from the consequences of adhering to certain non-standard installation methods
Align these various issues and concerns with installation guidelines and industry best practices to improve quality and minimize failure and injury
Design Category (CSI Division):
Course & Quiz Details:
10 Multiple Choice and True/False Questions
A score of 80% or higher is required to receive a certificate of completion