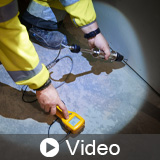 Documenting the Invisible: Using IOT During Construction

About the Sponsor
Founded in 1955 as part of Munters Corporation, Polygon is a pioneer and industry leader in the world of drying technology and engineered temporary climate solutions. The company established the use of desiccant dehumidification more than 60 years ago and has continued to advance the industry with the latest technology and the most energy efficient dehumidification and temperature control equipment available.
Course questions/comments
(800)422-6379
In this one-hour course, participants will gain a breadth of knowledge regarding monitoring equipment that can prevent, control and mitigate damage during the construction process. It will discuss how to choose and install equipment that provides on-site and remote monitoring, primarily focusing on environmental monitoring and recording. After completing this course, participants will be able to identify the many benefits of construction monitoring, such as decreased construction time and liability, as well as specify monitoring equipment in their future projects.
Learning Objectives:
Discuss the importance of installing equipment capable of measuring environmental conditions during the construction process in order to ensure the safety of builders, installers, and future occupants
Determine providers and evaluators of equipment that monitors and records environmental variables during critical time periods after products and processes have been put in place
Detail how temporary controls and equipment can be used to respond to changing environments and regulate them as needed to maintain safe conditions using environmentally sensitive products and processes
Demonstrate how properly dated logs and records of ongoing environmental conditions on job sites can be used, especially in the event of litigation regarding unsafe installation
Design Category (CSI Division):
(07) Thermal and Moisture Protection
Course & Quiz Details:
10 Multiple Choice and True/False Questions
A score of 80% or higher is required to receive a certificate of completion