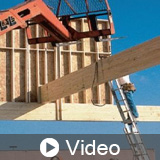 Evolution of Glulam - High Performance, Cost Conscious Structural Design

About the Sponsor
Our story begins in 1890, when Thomas "Whit" Whitaker Rosborough started running his own sawmill. Sixteen years later, Whit Rosborough formed the Caddo River Lumber Company in the aptly-named Rosboro, Arkansas. In 1939, his team migrated to Springfield, Oregon, and opened Rosboro's first sawmill. Rosboro's first glulam plant opened in 1963. It was the first in the industry to use several key innovations: ~ Radio frequency beam curing equipment to shorten the processing time, enabling Rosboro to offer glulam as a cost-effective alternative to other floor and roof framing options. ~A continuous pre-glued finger joint allows Rosboro to make long length lamination's. ~ Stress wave machine-graded lumber, which creates stronger and more consistent glulam. Since then, Rosboro has continued its commitment to "Building Better" by using comprehensive information technology services to help create a top-notch customer service experience.
Course questions/comments
888-393-2304
Over the course of the presentation, participants will review the evolution of glulam manufacturing and gain an understanding of the versatility offered through 24F-V4 glulam manufactured in framing widths and IJC compatible depth as a means to expand the available options designers have from the EWP product category. Further, participants will be asked to re-evaluate how they define "value engineering" along with where and when they specify custom vs. stock glulam, based on versatility, cost , manufacturing lead time and availability.
Learning Objectives:
Explain the evolution of glulam beam as a means to improve their ability to evaluate the value of utilizing 24F/1.8e as a base design criteria in order to facilitate greater field construction options
Evaluate the breadth of EWP product combinations available for design & specification in single family residential and multi-family, wood construction projects.
Better specify and understand non-brand specific EWP systems for wood construction projects with greater consciousness of total cost of materials.
Acquire greater insight into wood beam product manufacturing capacity, as to acquire a greater understanding of why there is a need to design EWP system with an eye for value and include glulam.
Design Category (CSI Division):
(06) Wood, Plastics and Composites