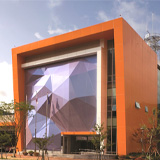 Exploring MCM/ACM Paint Systems and the Building Envelope

About the Sponsor
As one of the world's leading manufacturers of metal composite materials, ALPOLIC® carefully considers every detail of the manufacturing, distribution and sales process. Most of our products are manufactured in Chesapeake, VA, many with a substantial amount of post-consumer recycled materials. After fabrication, the MCM sheets are shipped to their destinations, ready to change the facade of structures around the world. Exceptional projects deserve exceptional materials. Demand ALPOLIC®.
Course questions/comments
757-382-5726
Explore MCM and ACM panels along with the different types of paint finish systems that include solid colors, prismatic finishes, faux finishes, and more. With an emphasis on new fluoropolymer technology, gain insight into finish standards and testing as well as how the makeup and application of each finish type affects its performance.
Learning Objectives:
Identify the purpose and function of MCM/ACM panels
Explore the different types of MCM/ACM paint finishes in terms of application and performance (weatherability/durability) for a building envelope
Discuss testing and standards for aluminum substrate finishes and the three main quantitative performance measurements (gloss retention, color retention, chalking) that contribute to the longevity of a project
Explain proper installation of paint finished MCM/ACM panels in addition to other design considerations
Design Category (CSI Division):
(07) Thermal and Moisture Protection