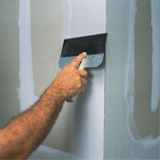 Finishing Gypsum Board: Appearance and Indoor Air Quality

About the Sponsor
National Gypsum Company is a fully integrated building products manufacturer and one of the leading gypsum board producers in the world. National Gypsum also offers a full line of interior finishing products including joint compounds, tape, and textures. Its growing cement board product line has a strong customer base in the United States and several other countries.
Course questions/comments
704-365-7494
Learn about the different levels of gypsum board finishes as well as when to specify each according to the needs of the project. Gain insight into the importance of indoor air quality (IAQ) in regard to sustainability, how to improve IAQ, and how gypsum board finishes impact IAQ.
Learning Objectives:
Identify the significance of ASTM C840, "The Standard Specification for Application and Finishing of Gypsum Board."
Discern the differences between the "Five Levels of Finish" (GA-214-10), and explain the terms and operations associated with each level
Assess the ways that interior gypsum board finishing applications meet sustainable design criteria for indoor air quality
Define the ways that interior gypsum board finishing contributes to an Indoor Air Quality Management Plan
Determine appropriate gypsum board products to specify so a project meets or exceeds sustainable design standards
Design Category (CSI Division):
Course & Quiz Details:
10 Multiple Choice and True/False Questions
A score of 80% or higher is required to receive a certificate of completion