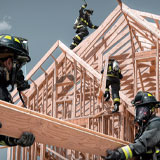 Fire Retardant Treated Wood (FRTW) for Commercial and Residential Structures - Update

About the Sponsor
Providing an extensive range of advanced wood treatment technologies and services to the global wood preservation industry, with an expertise in wood biocides and wood protection chemicals, Viance LLC is an industry leader in the development of advanced greener building material solutions that improve the performance and durability of wood and wood products for sustainable building.
Course questions/comments
(704)905-4726
Fire-retardant treated wood (FRTW) provides the traditional aesthetic of wood without the fear of flammability. Join us in this one-hour course as we discuss interior and exterior FRTW, codes and tests that ensure FRTW is safe for buildings and their occupants, and the many applications for FRTW products. Participants will get an in-depth look at the manufacturing process that creates safe, sustainable, and aesthetically-pleasing wood that can be used in all of their projects.
Learning Objectives:
Explain how fire-retardant treated wood (FRTW) reduces personal injury and property damage by reducing the spread of flame and smoke
Discuss the differences between interior and exterior FRTW and common applications of each
Identify the organizations and codes that ensure FRTW products are standardized and safe for future users, especially in the event of an emergency
List the various tests and quality control processes used to analyze FRTW products' ability to slow the spread of flame, protecting a building and its occupants
Design Category (CSI Division):
(06) Wood, Plastics and Composites