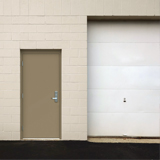 Forced Entry Resistant Doors and Frames

About the Sponsor
Steel Door Institute (SDI) was established in 1954 as a non-profit business association that develops standards for steel doors and frames. These standards are available free of charge so architects can ensure quality and consistency of steel doors and frames. SDI members are the only manufacturers that have been audited to ensure they meet our standards.
Course questions/comments
(949)422-2911
Every type of building requires protection against forced entry -- and doors & frames are the first line of defense. Learn about finding the "just right" amount of security for your building projects and how to specify the doors and frames.
Learning Objectives:
Describe the different motives for forced entry
List door assembly capabilities that reduce the risk of forced entry
Learn the standards that can be specified to ensure a certain level of protection
Understand the potential life safety risks of security gadgets, such as barricades
Design Category (CSI Division):
(08) Doors, Windows and Openings
Course & Quiz Details:
10 Multiple Choice and True/False Questions
A score of 80% or higher is required to receive a certificate of completion