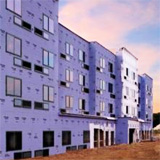 High Performance Gypsum: Protect Against Mold, Moisture and Exposure

About the Sponsor
About the Sponsor The Leader in Quality, Customer Service & Innovation National Gypsum Company, headquartered in Charlotte, NC, is the exclusive service provider of reliable, high-performance products manufactured by its affiliate companies and marketed under the Gold Bond®, ProForm® and PermaBASE® brands. The National Gypsum name has been synonymous with high-quality, innovative products and exceptional customer service since 1925. The strategic network of Gold Bond, ProForm and PermaBASE manufacturing facilities located throughout North America allows us to provide the best in customer service to keep your fast-paced projects moving forward. Our Technology Innovation Center consistently ensures performance and reliability standards, while the technical experts at 1-800-NATIONAL® are always just a phone call away to answer any type of product or application question. For decades, National Gypsum has saved customers time and money by providing the most reliable building products, resources and services. The Trusted Line of Gypsum Products Gold Bond Building Products, LLC provides solutions for your changing construction demands with major innovations in gypsum products that help increase productivity and profitability. Whether you want innovative fire-resistant assemblies, enhanced acoustical performance or require additional abrasion or impact resistance, Gold Bond products deliver with a level of excellence. Gold Bond offers a full line of gypsum board and plaster products, plus the moisture-, mold- and mildew-resistant PURPLE family of products. Finish Strong with the Right Products ProForm Finishing Products, LLC delivers industry-leading performance to complete your next interior project. From ready mix and setting joint compounds to joint tape and texture products, the ProForm family of products offers high-quality, consistent formulas that are easy to apply, and the full line is mold resistant. All of these product benefits, combined with best-in-class customer service, help you minimize project costs and maximize jobsite performance. The Best Base for a Great Finish PermaBASE Building Products, LLC offers the industry's largest variety of cement boards covering the most demanding interior and exterior applications. The PermaBASE family of products provides performance and peace of mind with valuable features and applications that save you time and money. Ideal for interior wet areas in kitchens and baths, PermaBASE products are increasingly being used in exterior applications. For information, visit nationalgypsum.com.
Course questions/comments
704-365-7931
This course will focus on gypsum products manufactured with fiberglass facing, replacing the paper facing typically used on gypsum board. We will review the high performance characteristics and applications for the fiberglass faced gypsum panels to improve the health, safety and welfare of any project and associated occupants through improved fire ratings and indoor air quality. This course includes a series of diagrammatical wall sections for a variety of typical envelope systems as well as interior application details.
Learning Objectives:
Identify the characteristics of high performance gypsum panels related to moisture, mold, fire resistance, and exposure
Recognize products available with high performance properties including exterior sheathing, shaftliner, interior panels, and tile backer panels
Determine the appropriate use of high performance fire rated separation systems at shaft enclosures and separation walls
Assess the use of high performance gypsum panels for exposure conditions in extreme interior applications
Appraise the situations where tile backer board is appropriately used both with and without a tile finish
Compare the unique applications and benefits for each product category
Design Category (CSI Division):