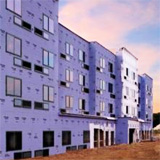 High Performance Gypsum: Protect Against Mold, Moisture and Exposure

About the Sponsor
National Gypsum Company is a fully integrated building products manufacturer and one of the leading gypsum board producers in the world. National Gypsum also offers a full line of interior finishing products including joint compounds, tape, and textures. Its growing cement board product line has a strong customer base in the United States and several other countries.
Course questions/comments
704-365-7494
This course will focus on gypsum products manufactured with fiberglass facing, replacing the paper facing typically used on gypsum board. We will review the high performance characteristics and applications for the fiberglass faced gypsum panels to improve the health, safety and welfare of any project and associated occupants through improved fire ratings and indoor air quality. This course includes a series of diagrammatical wall sections for a variety of typical envelope systems as well as interior application details.
Learning Objectives:
Identify the characteristics of high performance gypsum panels related to moisture, mold, fire resistance, and exposure
Recognize products available with high performance properties including exterior sheathing, shaftliner, interior panels, and tile backer panels
Determine the appropriate use of high performance fire rated separation systems at shaft enclosures and separation walls
Assess the use of high performance gypsum panels for exposure conditions in extreme interior applications
Appraise the situations where tile backer board is appropriately used both with and without a tile finish
Compare the unique applications and benefits for each product category
Design Category (CSI Division):
Course & Quiz Details:
10 Multiple Choice and True/False Questions
A score of 80% or higher is required to receive a certificate of completion