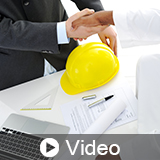 How to Win Good Architecture Projects Consistently

About the Sponsor
The Architect Marketing Institute helps architecture firms win better projects and better fees through effective marketing. Download the architecture firm marketing flowchart on our website!
Course questions/comments
(415) 423-2225
Today's clients are more immune than ever to traditional advertising and marketing methods. Competition is fierce and to most prospective clients, all architects look alike. How do you differentiate yourself in a crowded market? In this one hour presentation, you'll discover a little-known but highly effective 3 step process to attract and win high-quality clients and projects without spending all of your time and money networking, or using traditional advertising and marketing methods.
Learning Objectives:
Discover the 3 steps of attracting more prospective clients and winning more projects
Understand how to apply the 3 steps in your own practice to create a steady flow of new project inquiries
Discover the most effective (but little-used) client getting strategy for architects
Learn how to fill in the 'missing step' in the typical architect's sales process
Design Category (CSI Division):
Course & Quiz Details:
10 Multiple Choice and True/False Questions
A score of 80% or higher is required to receive a certificate of completion