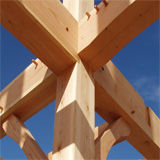 Improving Timber Connections Through Design

About the Sponsor
Timberlinx, invented by Didier Schvartz of Young's Point, Ont., is a completely hidden steel hardware system that allows all types of beams and posts to be joined easily at various angles, with terrific strength and apparent authenticity. Timberlinx can be used to replace, supplement, or enhance every joint that is used in timber frame, log building, or post and beam construction.
Course questions/comments
877-900-3111
Compare traditional mortise and tenon joinery with embedded timber connectors, and become familiar with the parts of a common frame. installation processes, and design for: tension, compression, and shear utilizing steel embedded connectors.This course will help you specify different styles of connectors for wood, wood to concrete, and wood to steel connections.
Learning Objectives:
Compare traditional mortise and tenon (MT) joinery with embedded timber connectors
Identify parts of a common timber frame
Design for tension, compression, and shear utilizing steel embedded connectors
Explain the installation of an embedded timber connector
Specify different styles of embedded connectors for wood to wood, wood to concrete, and wood to steel connections
Design Category (CSI Division):
(06) Wood, Plastics and Composites