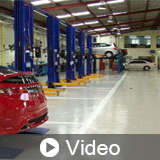 Industrial Resinous Flooring Systems

About the Sponsor
Elite Crete Systems, Inc. is a world leading developer and manufacturer of specialty high-performance flooring products for: decorative/architectural concrete systems and finsihes, concrete surface repair and protection, custom/seamless fluid aplied commercial flooring, and industrial high-wear protective floor coatings. We provide versatile applications for commercial flooring, residential flooring, and industrial flooring.
Course questions/comments
888 323 4445
This program will give the participant an understanding of the many options available with high performance resinous floor coatings. By knowing these flooring systems, they will then be able to choose the correct flooring systems to meet their clients' needs and expectations for both durability and aesthetics. We will also discuss the many components used in to create these high-performance floors along with their common uses. This discussion will also focus on describing the performance differences of each flooring system so that the participant can later be able to choose the correct system to meet even the most demanding project requirements. We will review case studies in order to help architects and specifiers to develop specifications that will include flooring systems which will meet their projects long term demands.
Learning Objectives:
Compare resinous flooring systems by recognizing the importance of selecting the right flooring system based on performance and the client's needs
Summarize the design components used in each flooring systems, clarify why they are important, and explain proper specification
Explain surface preparation for successful seamless fluid applied resinous floor covering
Discuss installation and application of seamless fluid-applied resinous floor systems
Summarize the benefits of a quality coating system and the value of coating performance related to the reviewed case studies provided
Design Category (CSI Division):
Course & Quiz Details:
10 Multiple Choice and True/False Questions
A score of 80% or higher is required to receive a certificate of completion