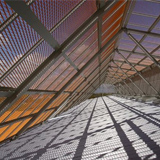 Introduction to Expanded Metal and Applications

About the Sponsor
Expanded Metal means versatility. Versatile is the key word describing Expanded Metal. New applications are found for it every day in industry, offices and homes. Expanded Metal allows the design professional the freedom to exercise maximum creativity. Available in different thickness and opening sizes, from micro or fine mesh to grating, Expanded Metal is produced in a variety of metals and other materials. Expanded Metal facilitates the free flow of air, fluid, or light where required. With Expanded Metal, there is no scrap.
Course questions/comments
630-942-6591
Be able to describe the benefits of expanded metal and how it is installed, including what the current standards are. Learn how to write specifications using industry standard nomenclature on various patterns.
Learning Objectives:
Describe what expanded metal is
List the benefits of expanded metal
Describe how expanded metal is installed and what the current standards are
Write specifications using industry standard nomenclature on various patterns
Design Category (CSI Division):
Course & Quiz Details:
10 Multiple Choice and True/False Questions
A score of 80% or higher is required to receive a certificate of completion