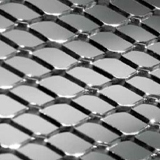 Lath: Selection & Specification to Enhance Stucco Performance

About the Sponsor
As ClarkDietrich, we are now truly able to answer the challenges of any project, regardless of size or complexity. With a complete lineup of innovative products, plus technical support services and smart tools for design and specification, we're forging a new future for steel framing.
Course questions/comments
(330)974-0835
Become familiar with metal lath products and stucco and plaster accessories that are available in galvanized steel, zinc alloy and vinyl. Examine trim and bead products used for veneer, stucco and plaster applications, and identify the benefits of using vinyl accessory products.
Learning Objectives:
Discuss differences in metal lath products and understand materials and procedures for safe and proper installation
Describe stucco and plaster accessories that are available in galvanized steel, zinc alloy and vinyl and which accessory to use depending on the application to ensure optimum performance
Describe trim and bead products used for veneer, stucco and plaster applications and which accessory to use depending on the application to ensure optimum performance
Discuss the types of vinyl accessory products and how they compare and contrast to their metal counterparts
Design Category (CSI Division):
(07) Thermal and Moisture Protection