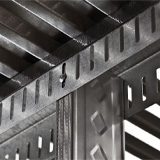 Life-Safety: Head-of-Wall Fire-Resistance and Design Considerations

About the Sponsor
As ClarkDietrich, we are now truly able to answer the challenges of any project, regardless of size or complexity. With a complete lineup of innovative products, plus technical support services and smart tools for design and specification, we're forging a new future for steel framing.
Course questions/comments
(330)974-0835
This course will provide information on steel shapes with intumescent fire stopping. It will help you to understand what information UL head-of-wall and other perimeter fire assemblies provide. Does your specified joint protection perform as it is intended to perform? This presentation will address these issues as well as present what you need to know about how intumescent material provides joint protection and updates to UL 2079 testing. The course will review how to interpret the information provided in UL joint assemblies, what the criteria is for dynamic and static movement, what leakage ratings are provided, and what pitfalls to watch out for in perimeter joint systems.
Learning Objectives:
What dynamic and static perimeter joints are in fire, smoke and sound rated construction
What design professionals should consider when specifying and detailing protection of fire, smoke and sound rated perimeter joints
What constitutes a fire, smoke and sound rated joint assembly
UL ratings of joint assemblies
Design Category (CSI Division):
(07) Thermal and Moisture Protection