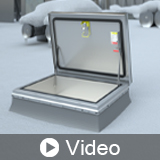 Life Safety with Rooftop Accessories - Update

About the Sponsor
Architects, specifiers, general contractors and distributors rely on the Babcock - Davis product line for a quality product with hassle-free fulfillment. We provide roof hatches, smoke vents, access doors, floor doors, stair treads and nosings, entrance flooring systems and wallwear when and where you need them.We build our services around your specified needs. Babcock Davis takes complete care of your needs and full responsibility for the process from beginning to end, ensuring that you get the right product in the right place at the right time.
Course questions/comments
888.412.3726
This course will explain the benefits of roof hatch & smoke vent design and life safety. The designer will have a better understanding of code regulations for life safety and will be able to properly size and place vents in accordance with these codes. We will conclude this one-hour course with a 10-minute Q&A period for review of the topics covered today.
Learning Objectives:
Describe roof access hatch applications for personnel and equipment and understand the meaning and importance of a thermal break in a roof hatch
Explain code regulations and OSHA for safety railing fall protection for openings
Describe smoke venting applications based on IBC code regulations
Explain the differences between UL 793 and FM 4430
Identify design practices for sizing and selecting operation of smoke vents
Design Category (CSI Division):
(07) Thermal and Moisture Protection