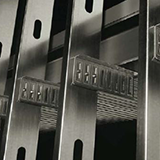 Light-Gauge Steel Framing Connection Products: Specifying Tested Connection Products That Limit Liability

About the Sponsor
As ClarkDietrich, we are now truly able to answer the challenges of any project, regardless of size or complexity. With a complete lineup of innovative products, plus technical support services and smart tools for design and specification, we're forging a new future for steel framing.
Course questions/comments
330-372-5564
Define the use of light-gauge steel framing connection products. Discuss practical applications of deflection clips, support clips, and the various methods of installation for different types of connectors.
Learning Objectives:
Explain how deflection clips are used to attach exterior curtain-wall studs to a building structure
Explain how to provide for vertical building movement independent of the cold-formed steel framing
Define what types of support clips are used for rigid or positive attachment connections
Explain the various methods used to install the different types of connectors
Properly interpret the allowable load tables for clips.
Design Category (CSI Division):
Course & Quiz Details:
10 Multiple Choice and True/False Questions
A score of 80% or higher is required to receive a certificate of completion