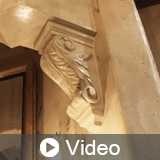 Lightweight Molded Architectural Limestone

About the Sponsor
AHI Supply is a leading manufacturer and distributor of quality construction products. We are committed to manufacturing superior products at an affordable price with a focus on customer satisfaction and service. AHI supply works with clients and distributors to provide innovative construction solutions that contribute to their success and competitive advantage. Our company has been serving the general public and the construction community in Texas since 1982.
Course questions/comments
800.873.5794
In this one-hour course, we discuss light-weight architectural (LWMA) limestone as a non-structural alternative to conventional limestone and compare it to other architectural limestone alternatives. The program will cover LWMA limestone composition, durability, product testing, and application examples.
Learning Objectives:
Define Light-weight molded architectural limestone (LWMA limestone), its properties and how it differs from visually similar materials in terms of ease of installation and weatherability.
Discuss the design flexibility and inherent sustainable attributes of light-weight molded architectural limestone.
Discuss fire rating and tensile strength testing standards for light-weight molded architectural limestone.
Identify best practice installation tips for attachment of LWMA limestone.
Design Category (CSI Division):
Course & Quiz Details:
10 Multiple Choice and True/False Questions
A score of 80% or higher is required to receive a certificate of completion