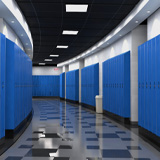 Locker Solutions for Every Place and Purpose - Update

About the Sponsor
Scranton Product's well-known brands feature the most durable, low maintenance and best looking partitions, lockers and industrial sheet products in the industry. They won't dent, rust or need painting, and because they are colored throughout, delamination is not a factor.
Course questions/comments
570-348-0997
Lockers come in many shapes and sizes. In this one hour course, we will discuss uses for lockers, material choices and accessories. We will learn about ADA compliance and sustainability as it relates to lockers, and we will take a look at different options that add to the visual appeal, and options that make for an easier user experience.
Learning Objectives:
Compare and contrast different material types for lockers in terms of their makeup, maintenance, life span, and sustainable benefits to occupants and the environment
Identify different applications for HDPE plastic lockers and discuss design options that make them more user-friendly, ADA compliant, and aesthetically pleasing to end users based on those applications
Describe the health and environmental benefits of specifying HDPE plastic lockers made from 100% recycled content
Discuss fire code compliance of lockers and explain the importance of recognizing NFPA 286
Design Category (CSI Division):