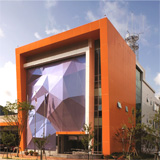 MCM/ACM Paint Systems and the Building Envelope

About the Sponsor
ALPOLIC is part of Mitsubishi Plastic's family of world-renowned companies. As the #1 ACM manufacturer in the world, ALPOLIC produces a wider variety of ACM and MCM panels, for both interior and exterior applications, than any other manufacturer, including an affordable fire-resistant product that sets the standard. For more information, visit us online.
Course questions/comments
757-382-5726
Explore MCM and ACM panels along with the different types of paint finish systems that include solid colors, prismatic finishes, faux finishes, and more. With an emphasis on new fluoropolymer technology, gain insight into finish standards and testing as well as how the makeup and application of each finish type affects its performance.
Learning Objectives:
Identify the purpose and function of MCM/ACM panels
Discuss the different types of MCM/ACM paint finishes in terms of application and performance (weatherability/durability) for a building envelope
Discuss testing and standards for aluminum substrate finishes and the three main quantitative performance measurements (gloss retention, color retention, chalking) that contribute to the longevity of a project
Explain proper installation of paint finished MCM/ACM panels in addition to other design considerations
Design Category (CSI Division):
(07) Thermal and Moisture Protection
Course & Quiz Details:
10 Multiple Choice and True/False Questions
A score of 80% or higher is required to receive a certificate of completion