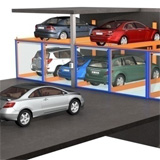 Mechanical Parking Solutions for Modern Urban Density

About the Sponsor
Klaus Multiparking is the world leader in parking systems with over 500,000 cars on Klaus lifts in 65 countries. Klaus has been manufacturing car lifts since 1964 and offers a full range of models from simple lifts to fully automatic systems. With representatives on the East and West Coast as well as in Canada, Klaus can help meet the needs of any project.
Course questions/comments
925-284-2092
An innovative solution to parking space, mechanical parking and the dependent access parking stackers' uses and limitations are illustrated and described in this course to expand your knowledge on this unique product. Learn about the different types of parking stackers and how they work.
Learning Objectives:
Define mechanical parking
Describe dependent access parking stackers' uses and limitations
List the different types of independent access parking stackers
Explain puzzle lifts, how they work and what their advantages are
Describe fully automatic machines and why they might be used
Compare and contrast the different stackers and lifts and describe when each would be appropriate for use
Describe what type of cars are suitable for each lift
Describe the design requirements for each parking type
Design Category (CSI Division):