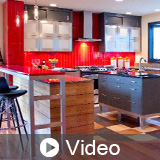 Modern Materials for Contemporary Design

About the Sponsor
Element Designs is synonymous with innovation in the kitchen & bath, commercial, hospitality industries. We are the leading custom manufacturer of architectural casework components in North America which include aluminum frame cabinet doors, patent pending aluminum frame LED panels, high gloss solid surface doors, aluminum frame base systems and back painted glass. Our new products further demonstrate our dedication to providing our customers with the most innovative architectural casework products and solutions available on the market today. All our products are made in the USA using regional suppliers, with quick lead times and excellent customer service.
Course questions/comments
(877) 332-3396
Today we are going to look at three contemporary high-end materials: aluminum, glass and high gloss acrylic. First, we will review the inherent qualities of each, then we will look at how each might be incorporated into your designs. We will review the design options of each application and how to specify these materials into your projects. And finally we will discuss the variety of building typologies in which these materials can be utilized and look at a few case studies that have incorporated these materials in a comprehensive manner to achieve a truly dramatic contemporary design.
Learning Objectives:
Describe three contemporary design materials and discuss the characteristics of each including safety, standards and certification
Discuss the interior design applications for aluminum, glass, and high gloss acrylic and how they ensure the safety of installers and occupants alike
Explain the design options and specification criteria for each of the three materials discussed and how they optimize an interior space for the safety of occupants
List the project types where aluminum, glass, and acrylic can be incorporated and how best to include these elements for a contemporary design
Design Category (CSI Division):